Exciting up and coming teambuilding events!
As of the 15th April our ct branch will be open.
Ask us about our new programs:
Movie Maker
Tower of Hanoi
Pipeline- golf ball cutting
Raft Building
Interactive Drumming
Facilitated Historic Walking Tours (Johannesburg)
Master Chef
Survivor
Cocktail Competition
Minute to Win It
Around the World in 80 Minutes
Comair Limited Hybrid game show team build: –A team from Comair Limited will meet Corporate Adventures at the Birchwood Hotel to enjoy our Hybrid Game Show Teambuild. Consisting of all the well know game show programs on TV, Minute to win it, Who wants to be a millionaire, The Cube...etc
Siemens Extreme Makeover– A team from Siemens will work with Corporate Adventures to do some much needed work and add significant improvements to the Dora's Ark children's home and soup kitchen. Look for the upcoming photos and video clip!
Amazing Race:
A great option for this on a budget! Whilst racing to beat the other teams to win the amazing race.

Sports around the world:
Partake in a series of team sport challenges, in a great knock out challenge, team vs. Team! Great for corporate fun days. Various options are available to choose from, based on your requirements and budget..
Pottery- Creative teambuilding
Bounce
Maze
Medieval Banquets
Wild West Parties
Joy and Laughter workshop
Hop on – hop off
Floating Restaurant
Ballooning
4x4 team building adventure
Million point drop
Floating restaurant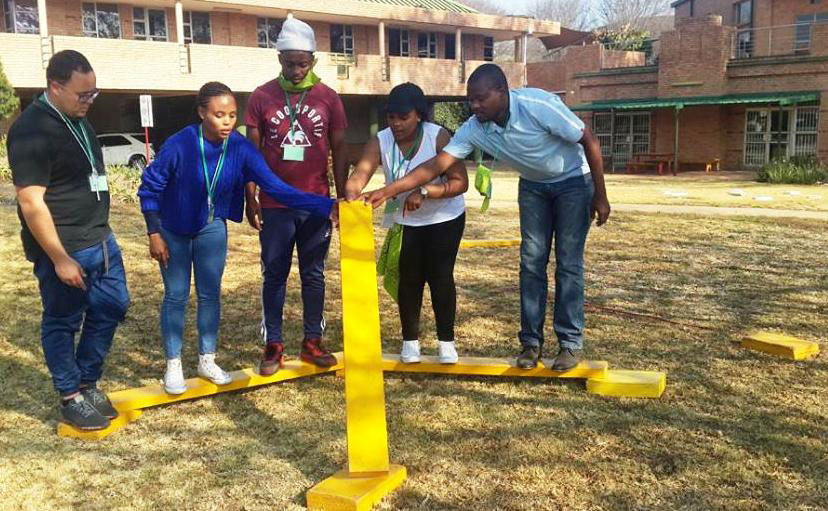 "Problem Solving"
The Art of Possibility Team Build
An invitation for your team to step into a universe of possibility! Based on the principles covered in "The Art of Possibility" by Benjamin and Rosamund Zander, this fun, engaging and totally unique outdoor/indoor event will kick start any team that is feeling a bit stale after the slog of the recent recession. Contact Talana now for a quote on 082 527 9234 or email talana@corporateadventure.co.za!

Story Telling Team Build
A bit of background to storytelling in business:
Let's stop for a moment. Does storytelling really have a place in business, where analysis and cold hard facts and figures are prized above all else?

The answer? ABSOLUTELY yes! Though analysis and facts and figures excite the logical mind, storytelling captures the heart. This allows you to motivate them to action with energy and enthusiasm and opens the door to a closer working relationship.
So let's tell tales! Contact Talana now for a quote on 082 527 9234 or email talana@corporateadventure.co.za!
Vision
To be the preferred provider for team building and high performance team coaching in South Africa.

Mission
Through the careful design of each of our client's programs, Corporate Adventures strives to create environmentally, physically and emotionally safe and sound team building experiences, contributing to the growth of personal and team development.

Values
Discovery through adventure

To guide and empower, not teach: At Corporate Adventures, we want to guide you to use the insights and apply them for yourselves, in the most practical way thereby empowering you to make lasting and positive changes in your personal and work life.
Safe and sound: Both emotional and physical safety are non-negotiable aspects in all our programs.
Integrity: We are open and honest with our clients in all matters. We choose only to work with and hire sub-contractors and staff that work in the same way.

Just for Fun Team building Just to have fun! No debriefing after the chosen team activities, the team simply enjoys the team building event and each other's company.


"Aha Moment"
Team building A short debriefing is held after the team building activities to highlight any key "Aha" moments that the team experienced. The focus is still very much biased towards the fun aspect.


Structured Team Building A structured brief and debrief are held prior to and after the team building activity. Practical and readily implemented actions plans are created from the discussion on a team and individual level. These are captured and sent to the team in a report.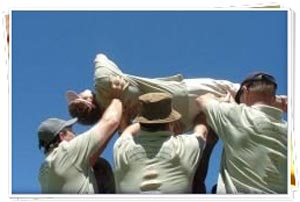 Structured Team Building and Development
Thorough scoping is done with the client to identify areas of strength and areas for development within the team and to understand the team context.

Outcomes for the team building event are agreed upon based on this and a suitable program designed.

The team activities themselves are held outdoors, the setting is informal and fun, but thorough discussion is held at each segment of the program and action plans created.

Each individual as well as the team as a whole creates pledges which are framed with a team photo and sent back to the team within two weeks.

A follow up meeting is held 4-6 weeks post team build to unpack how the action plans are going and discuss any further insights and obstacles.
We believe that people learn best when they are fully engaged in the process and can see the value to themselves. Our team building activities are all geared towards achieving this.
We also believe that adventure, fun and exploration provide great vehicles in which to create an experience that creates both team and self-awareness, which can be harnessed to create the team's own High Performance Recipe.
A fun day out, with team building activities tailored to the needs of your team on both a physical and emotional level.